Equine Internal Medicine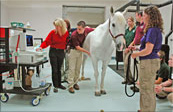 The Equine Internal Medicine Service cares for horses with complex problems associated with the respiratory, gastrointestinal, nervous system, muscles, internal organs and problems associated with neonatal foals.
The Equine Medicine clinicians, residents, students, and veterinary technicians provide outpatient services for horses with less complex conditions, and hospitalization services for horses that require observation during treatment or 24 hour critical care.
This service utilizes advanced diagnostic techniques including videoendoscopy, ultrasonographic examination, computed tomography, digital radiography and high-speed treadmill evaluation.
The Equine Medicine Clinicians in the Veterinary Health Center have completed 4 to 6 years of advanced training beyond veterinary school and are board certified diplomates of the American College of Veterinary Internal Medicine.
Current Issues in Equine Internal Medicine