Equine Internal Medicine
Services and Equipment
Videoendoscopy
Endoscopy is a procedure where a long camera is used to look in tubular organs. Most commonly a 1 or 3 meter (m) endoscope is used to look in the respiratory or gastrointestinal tracts. The 1 m endoscope can be used to evaluate the upper respiratory tract including the nasal passages and guttural pouches. In order to evaluate the lower respiratory tract or the esophagus and stomach a 3 m endoscope is used.

Some indications for the use of endoscopy are evaluations of horses with upper respiratory disease such as infection or inflammation, horses that make a noise with performance or horses with enlargement in the guttural pouch area. Horses that are suspected to have gastric (stomach) ulcers are commonly evaluated with the 3 m endoscope after a period of fasting to ensure that the stomach is empty at the time of examination for a complete assessment.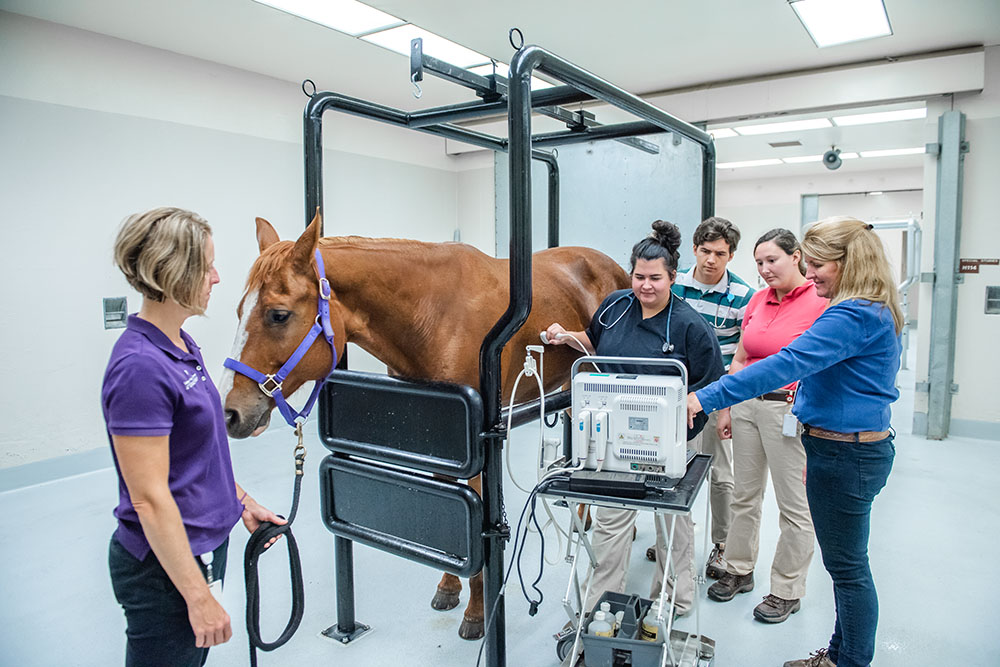 Ultrasonography
Ultrasound examination is a method of diagnostic testing that allows the veterinarian to examine internal structures in a non-invasive manner. High frequency sound waves are released from this instrument to allow for examination of various soft tissues, such as the lung surface, liver, kidneys and outer lining of the gastrointestinal tract. Ultrasound examination is a common procedure that is used for reproductive purposes to determine the size of ovaries and the characteristics of the uterus.
Digital radiography
Radiography is another non-invasive imaging technique commonly used to evaluate the skeletal structures of the limb in a horse. The equine internal medicine service in conjunction with the equine radiology service also uses this imaging technique on the abdomen or thorax with highly specialized equipment that is in available in the field. Horses with lower airway diseases may require thoracic radiography to more closely determine the type of disease process occurring. Abdominal radiographs can be useful in both adults and neonatal foals especially if they are displaying colic (abdominal pain). Examples of problems that can be identified with abdominal radiographs include sand enteropathy (impaction) or possibly enteroliths (stones within the gastrointestinal tract) that cannot be identified definitively with other imaging or diagnostic techniques definitively. Other examples of when the internal medicine service may utilize radiographs includes horses with neurologic signs where images of their vertebrae are useful to determine the source of the problem.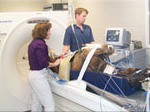 Computed tomography
This is a special imaging technique that can be used to examine the head or lower limbs of adult horses or most regions of a small horse or foal. The procedure uses cross section images that are reconstructed by a computer program to define various soft tissue and bone regions. Most commonly this is a technique that is selected for an area where conventional radiograph and ultrasound examinations are not effective for identifying the region of interest.
Equine Clinical and Diagnostic Pathology
The Equine Internal Medicine Service will examine your horse and determine what diagnostics may be needed to help determine the source of your horse's problem. They are trained specialists in safely and proficiently obtaining diagnostics samples including blood work, peritoneal fluid, cerebrospinal fluid (CSF), tissue biopsy samples, or samples for infectious disease identification. Board-certified specialists in pathology examine these samples, often on a same day basis, to give us answers quickly.
Equine Cardiology
Cardiac diagnostics include diligent auscultation (listening to the heart sounds), ECG (determining the rhythm of the heart), Holter monitor (24 hour ECG recording), and echocardiography (ultrasound of the heart in real-time). These diagnostics are used to determine the health and function of the equine heart. The Equine Internal Medicine Service can consult with board-certified cardiologists to best interpret results and determine treatment plans on the same day of the scheduled visit. Examples of cardiac problems that these services treat and help manage include arrhythmias (abnormal heart rhythms) and heart dysfunction.
Equine Dermatology
A number of diagnostics can be performed to determine the source of abnormal skin lesions or allergic skin disease. The Equine Internal Medicine Service clinicians are trained to determine what the best diagnostic is based on the clinical signs (skin scrape, biopsy, culture, etc). Skin biopsies are examined by the Kansas State Veterinary Diagnostic Lab board-certified pathologists along with the VHC's board-certified dermatologist. Additionally the dermatologist is available for consultation on cases as well as allergy testing on an appointment basis.
Equine Ophthalmology
The Equine Internal Medicine and Ophthalmology Services work closely together to examine not only the horse's ocular structures but also the entire horse. These services work together to determine a plan that is best not only for the horse's eyes but also the whole horse. These are truly collaborative services that can examine and treat horses on an out-patient basis or hospitalize horses for treatment as necessary.