Online Payment Options
Use our online form to make payments easily online!
CareCredit healthcare credit card for veterinary care for pets big and small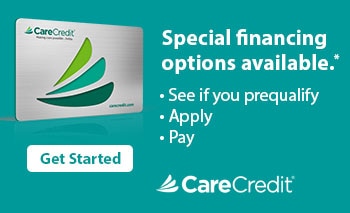 Whether it's a routine checkup or emergency surgery, you shouldn't have to worry about how to get the best medical care for your pet. That's why we're pleased to accept the CareCredit healthcare credit card. CareCredit lets you say "yes" to recommended treatment for your pet immediately, and pay for it in convenient monthly payments that fit your budget.

CareCredit is the healthcare credit card designed exclusively for healthcare services with special financing options.* With CareCredit, you can use your card for all of your pet's follow-up care as well as annual exams and vaccines.
*Subject to credit approval. Minimum monthly payments required. Ask us for details.
Our payment policy
We are dedicated to helping our clients care for their animals and realize that payment for treatment often is a concern. In general, our fees for routine patient care are similar to those of private veterinary hospitals. Specialty services require equipment and supplies that can be costly.
The State of Kansas does not provide funding specifically for the treatment of client-owned animals at the Veterinary Health Center. The major portion of the Veterinary Health Center operating budget including expenses for faculty and staff salaries, drugs, supplies, feed, laboratory services and operational expenses are generated from fees for client services. Consequently, it is imperative that we collect appropriate fees for service.
A deposit of approximately 60% of the estimate is required before treatment is initiated.
Payment by cash, check, Discover, MasterCard, Visa or American Express is due upon termination of the office visit, completion of the ambulatory call or release of the patient from the hospital.
Changes to your account may occur after you've departed the Veterinary Health Center due to our routine review of all medical records to ensure charges accurately reflect the visit. This routine review may result in a final invoice during the next billing cycle.
The VHC Business Office will be happy to answer your payment questions.