Small Animal Internal Medicine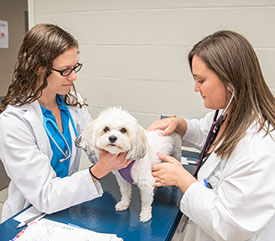 The Small Animal Internal Medicine group at the VHC is dedicated to the care of your animal's complex medical needs. With a dedicated staff and the latest in technology (MRI, Endoscopy etc.) our goal is to provide the best possible medical care for your pet.
Canine Blood Donors Needed
Just like people, dogs have diseases or injuries that require blood transfusions. We are looking for healthy dogs who can donate blood to ensure every patient in need can be treated.
Learn the requirements and benefits
Is your pet a candidate for a clinical trial? Read about open trials here.