Equine Reproduction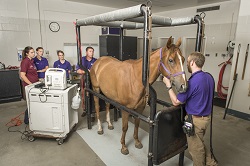 The Equine Reproduction Service provides year-round reproduction services both at your farm and in the hospital, either on an outpatient (trailer-in) or inpatient basis. Mares and stallions boarded in the hospital are housed individually in stalls and supervised 24 hours a day by clinicians, residents, interns, technicians and students.
For current programs, see the Mare Breeding Management Plans brochure.
Current Issues in Equine Reproduction
The VHC is pleased to announce that Sixes Sixgun will be standing at Kansas State University for the 2019 breeding season. Click here for more details.