Cardiology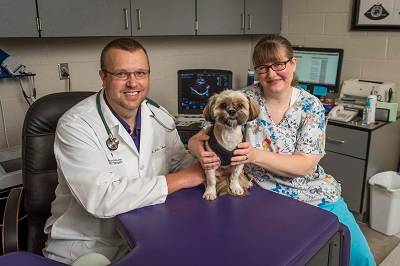 The Cardiology service offers the best in the diagnosis and treatment of heart disease in veterinary patients. Our pets can suffer from many of the same diseases of the heart that affect people. In order to determine the cause of a heart problem, the Cardiology service offers echocardiograms (ultrasound of the heart), radiographs, ECGs and Holter monitoring, as well as blood tests for biomarkers.
If a heart problem is found, our board certified cardiologist can offer a variety of treatment options, tailored for the needs of each patient and their family. These treatments range from medications to minimally invasive surgery. For emergency treatment, the Veterinary Health Center has an oxygen cage located in its ICU, which is open 24 hours a day, 365 days a year.
For most routine appointments, the patient's family will be invited to the Cardiology room to talk to the cardiologist and the veterinary students about their concerns and to observe the echocardiogram. Our patients' comfort is a priority for us and we feel that family participation is an important part of that.
Services include:
Cardiology exams
Recheck exams
Congenital heart defect screenings for breeders
OFA certification
Consultations with other services
Minimally invasive surgeries
6-lead ECG
Holter monitoring
Echocardiograms
Troponin I and proBNP biomarkers
Learn About Our Research
Current Cardiology Clinical Trials