Equine Performance Medicine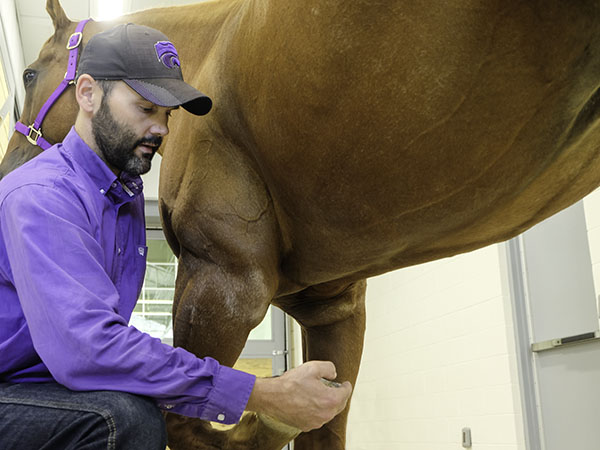 What you get from the Equine Performance Medicine Service:
Gold standard care from board-certified clinicians
Cutting edge treatment options based on the most recent scientific evidence
Customized rehabilitation plans
Lameness diagnosis, advanced imaging, physical therapy, chiropractic treatments and regenerative medicine all under one roof!
To schedule an appointment please call 785-532-5700. Barn visits are available for certain instances.
Services

Exam & Diagnostics

Lameness localization
Axial skeleton biomechanical evaluation
Dynamic functional evaluation

Performance assessment of the horse's movement

Diagnostic Imaging

Digital Radiography
Ultrasound
Endoscopy
Nuclear Scintigraphy -VHC
Computed Tomography (CT) – VHC
High Field MRI – VHC

Treatment & Aftercare

Regenerative Medicine
Medical Therapeutics
Individualized Rehabilitation Plans

Therapeutic exercise
Core strengthening
Balance and proprioception
Mobilization and stretching

Shockwave therapy
Equine chiropractic
Support Services
Patients seen by the Performance Medicine Service have access to the board-certified clinicians on the specialty services of the VHC for consultation and treatment.
Equine clinicians Dr. Warren Beard, Dr. Elizabeth Santschi and Dr. Dylan Lutter provide services in the Equine Performance Testing Center.
Equine Performance Testing Center
Our Equine Performance Testing Center features a climate-controlled treatment and farrier areas with in-house imaging and a consultation room that overlooks our fully enclosed performance evaluation area.
Performance Medicine Veterinarians
House Officers
Veterinary Nurses
Haileigh Avellar
Resident
Jami Maike
Veterinary Assistant
Pearce Sloan
Resident
Bryon Nelson
Veterinary Nurse
Ashley VanMeter
Veterinary Nursing Supervisor
Front Desk Staff
Barb Self
Client Services Assistant
Christian Anderson
Client Services Assistant