Clinical Trials
Clinical trials help healthcare professionals, including veterinarians, human doctors, pharmacists and others, evaluate new treatments and diagnostic tests for various diseases, including cancer. These new treatments and tests are designed to improve the detection, prevention and treatment of the disease, ultimately improving patient outcomes and quality of life for the patients and their families.
Clinical trials are the end stage of a long and careful investigative process, which may have taken many months to years. The treatments and tests being evaluated in a clinical trial have typically been previously tested in a laboratory setting, and have demonstrated potential as improved therapies typically based on data gathered in laboratory studies. Some clinical trials might test a new medication. Others might compare a new treatment option with existing treatment options. Some might test new diagnostic tests or compare it with the currently used diagnostic test.
The Veterinary Health Center offers clinical trials in which our patients and their owners have the choice to be involved. The VHC currently has the following clinical trials open for enrollment. If you are interested in learning more about our clinical trials, please contact us for more information. Email: ClinicalTrials@vet.k-state.edu
Looking for additional clinical trials?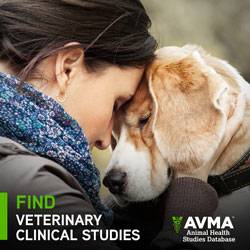 Visit the American Veterinary Medical Association's Animal Health Studies Database to find other clinical trials offered at an institution near you. This new AVMA database allows you to conduct a nationwide search for trials based on species and diagnosis.