Current Clinical Trials
Small Animal
Internal Medicine
Achievement of weight loss goals by feeding a consistent weight loss diet and regular nutrition consults
Fecal Microbiota Transplant versus Probiotics as Therapy for Acute Hemorrhagic Diarrhea Syndrome in Dogs
Investigation of glucagon-like peptide 2 (GLP-2) in dogs with chronic enteropathies
Serum Vitamin D Concentration in Dogs and Cats with Histoplasmosis
Screening for early detection of chronic kidney disease (CKD) in older cats (> 10 years old) – includes FREE health screening bloodwork and other diagnostics!
Large Animal
Using mesenchymal stem cells (MSC) for treatment of equine lameness and musculoskeletal injuries
Evaluation of anaplasmosis on commercial beef bull breeding soundness
Oncology
Pain assessment and activity tracking in dogs undergoing radiation therapy
Clinical trial for dogs with any externally accessible malignant tumor
Biomarkers of epithelial tissue injury in dogs and cats receiving cytotoxic therapy
Temozolomide in dogs with apocrine gland anal sac adenocarcinoma (AGASACA)
Orthopedic Surgery
Impact of photobiomodulation therapy in dogs with CCLR after TPLO surgery
Looking for additional clinical trials?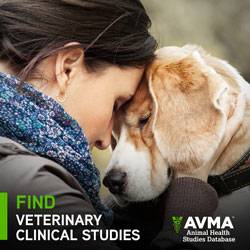 Visit the American Veterinary Medical Association's Animal Health Studies Database to find other clinical trials offered at an institution near you. This new AVMA database allows you to conduct a nationwide search for trials based on species and diagnosis.