April 2019
Reminders from the VHC: Vaccinations for Disease Prevention
Provided by Equine Field Service and Equine Internal Medicine Service
Consideration of recent diagnoses of equine influenza in our local equine community provides a great opportunity to help all equine enthusiasts (owners, trainers, caregivers and others) review their vaccine protocols. This is a particularly good time of year to review proper vaccination protocols because many horse owners and trainers are making plans for activities that may include travel to horse shows, rodeos, breeding farms or trail rides with friends. Specific to what has happened in Manhattan and the surrounding area, horses with clinical signs of cough, fever and nasal discharge have been positively diagnosed with equine influenza (see Trail Talk article for more information on equine influenza). What is of particular interest is that many of these horses were not properly vaccinated for equine influenza for over six months. Current USDA licensed equine influenza vaccines are recommended to be administered every six months for at-risk horses. At risk horses are those that are in contact with other horses, particularly those that are traveling to participate in events or breeding activities. Any time there is a group of horses coming together following a period of transport there is potential risk for disease transmission. Proper biosecurity and vaccination are key to disease prevention (see Trail Talk article for more information on biosecurity tips).

Vaccination protocols depend on the age of your horse, previous vaccinations administered, and risk of disease exposure. Equine vaccine protocols are established by the American Association of Equine Practitioners, Infectious Disease task force (see below for website address). Recommendations are made based on the science of infecting organism(s), disease transmission and current USDA licensed equine vaccines. Based on these criteria, the AAEP has established core and risk-based vaccine protocol recommendations. All horses should be protected with core vaccinations.
Core vaccines include:
Rabies
Tetanus
Eastern and western equine encephalitis
West Nile Virus
These are core because the risk of severe disease (potentially death) is great, they could cause disease in people (zoonotic, rabies) and the vaccines are proven to be efficacious and safe.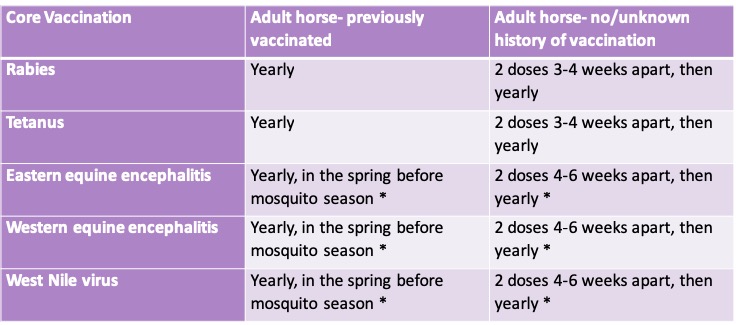 Table 1. Core vaccination guidelines for adult horses (>1 year of age) adapted from AAEP.
* In endemic areas, semi-annual vaccination may be required
Some horses may be at risk for certain diseases based on potential exposure from traveling or from residing in certain regions.
The second category of vaccines includes risk-based vaccinations.
Risk-based vaccines include a large number of diseases, but most commonly in the Kansas region they include:
Equine influenza = Flu
Equine herpesvirus-1 and -4 = Rhino
Streptococcus equisubsp.equi= Strangles
Equine Viral Arteritis = EVA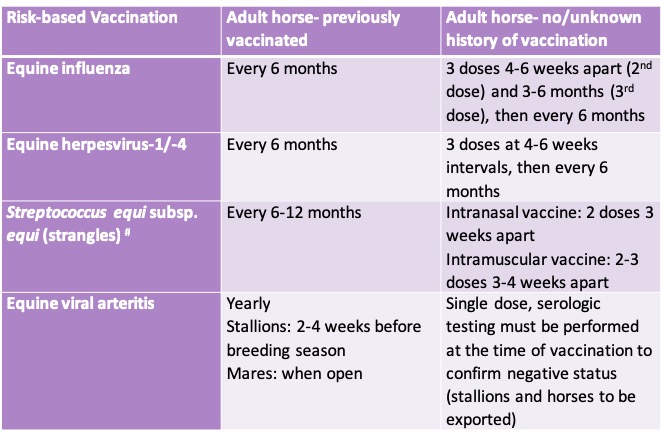 Table 2. Select risk-based vaccination guidelines for adult horses (>1 year of age) adapted from AAEP. * Strangles vaccinations should not be administered during an outbreak.


Developing and implementing an effective vaccination protocol for your horse(s) should be established through working with your veterinarian. It is important to understand that there is not a general vaccine protocol that will work for all horses. Safety and risk of these risk-based vaccines should also be discussed with your veterinarian prior to use. Age, stage, use and travel activity of the horse(s) all need to be considered when establishing the most appropriate vaccine protocol. Please feel free to contact the KSU-VHC or your veterinarian with vaccination questions.
An excellent resource to learn about all vaccine types and vaccine protocol guidelines is the American Association of Equine Practitioners Vaccination Guidelines website. The following guidelines are adapted from the AAEP Vaccination Guidelines and may serve as a resource and reminder for your adult horse as vaccinations are due this spring. Foals and broodmares have specific vaccination guidelines; please contact the KSU-VHC or your veterinarian to develop a plan for these horses.