Accomplished Surgeon Joins VHC Equine Service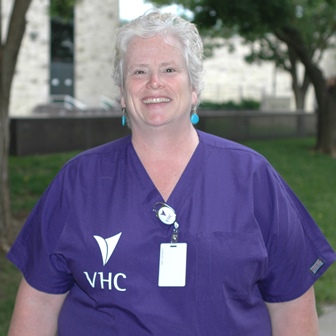 Dr. Elizabeth Santschi joins the Veterinary Health Center's Equine Service most recently from an equine surgery faculty position at The Ohio State University. Prior to this appointment, she served on faculty at the University of Minnesota and the University of Wisconsin. Dr. Santschi received her DVM from the University of Illinois and completed a residency at Peterson & Smith Equine Hospital in Florida.
Dr. Santschi brings a wealth of expertise in the surgical treatment of orthopedic disease in young horses, including fractures, flexural and angular limb deformities and orthopedic infections. She recently developed a minimally invasive surgical procedure to induce healing of subchondral bone cysts in the stifle of young horses.
Dr. Santschi is excited to bring new treatment modalities to the VHC and looks forward to continuing the tradition of excellent care provided by the equine clinicians at Kansas State. Dr. Santschi will take the leading role in utilization of the new Equine Performance Testing Center which will greatly expand treatment options available to horses in the Midwest.