Pet Health Center
K-State Pet Obesity Clinic
We are excited to announce that we have begun a brand new veterinary weight loss clinic here at the Kansas State University Veterinary Health Center; The K-State Pet Obesity Clinic.
Enrollment in the obesity clinic lasts for six months beginning at the date of your initial consultation. Throughout the duration of the six month enrollment your pet will have regular veterinary consults/weigh-ins with our clinical nutrition intern. These rechecks will occur on average every 2 – 4 weeks depending upon rates of weight loss. The program has a one time enrollment fee of $200 to be paid at the initial consultation. Each of the weigh in appointments and ALL weight loss food provided by the VHC and Hill's Pet Nutrition are FREE of charge for the fulls six months that your pet participates in the clinic!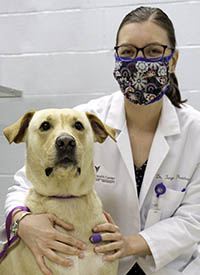 Dr. Taryn Pestalozzi
The Veterinary Health Center's primary care/nutrition intern, Dr. Taryn Pestalozzi will oversee the majority of the patients enrolled in the program. She will consult with two American College of Veterinary Nutrition board-certified clinical nutritionists from Hill's Pet Nutrition; who are also adjunct faculty with the Department of Clinical Sciences. The goal is to ensure that each patient is receiving a customized diet plan that is best suited for that individual animal to obtain optimal results.
Dr. Pestalozzi is excited to establish this new program at the VHC and is even more excited to help your pet begin a journey to a happier/healthier lifestyle! If you are interested in scheduling a consult or have additional questions please let us know.
You can email us at PHNC@vet.k-state.edu or call (785) 532-5690.
Download the obesity clinic weight loss trial consent form (PDF)